AdminBot for LSL
From SmartBots Developers Docs
SmartBots AdminBot for Groups is a LSL library which allows your LSL script to perform the functions previously available for the bots only!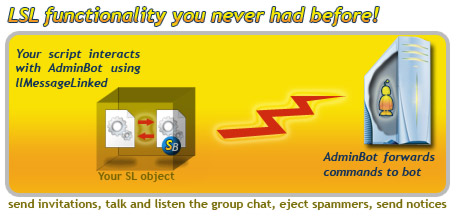 Major Features
Invite other residents to your group
Send group chat messages
Listen to the group chat (yes, it's possible too now!)
Eject members from the group
Send group notices
See the AdminBot Changelog page for last updates.
All these features are available out-of-the-box! You just need to list the group with SmartBots, and have a valid subscription.
Obtaining AdminBot for Groups
You can get AdminBot in SmartBots Store for free at SL Marketplace: click here.
AdminBot Documentation with Examples
All AdminBot commands and events are explained at AdminBot Documentation page.
Usage examples are available at AdminBot Examples page.