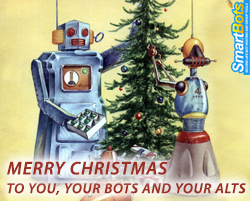 Dear friends! We wish you a Merry Christmas and a Happy New Year. Bear hugs to you, your bots, your alts, alter-egos, avatars and secret Second Life accounts.
May your first and second lives be filled with amazing events, exciting encounters, successful projects and beaten enemies. May all your support tickets replied within 1 hour, greefers banned within 1 minute and money transaction arrivals complete within 1 second!
P.S. A small gift to everybody who have to care about business during the holidays: coupon code MERRYANDHAPPY to get a 20% discount on all Store purchases (valid till Jan 2nd). Merry Christmas!