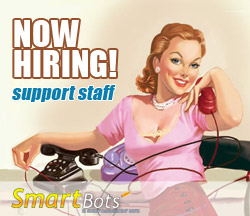 We are looking for more managers to support SmartBots' customers (by means of in-world chat, in-world group and tickets). Read the requirements below and contact us if you comply with all of them:
you are familiar with SmartBots services (at least with some of them) or ready to master them;
you are talkative, polite and nice;
you spend a lot of time in Second Life every day;
you wish to help people working with SmartBots.
Send your applications to Glaznah Gassner by email: dinofabrello@slbiz2life.com (IMs may get capped).
Please provide the following information:
your SL name;
the time you usually spend online;
the languages you talk;
your experience with SmartBots (if any);
your Second Life experience (age, skills, previous places of employment).