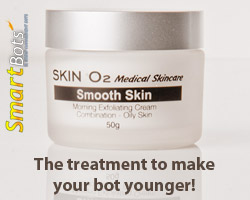 We've fixed a very important disadvantage of almost all known Second Life bots – the rough look of hi-res body textures. SL desktop viewers workaround this problem, but bots were affected.
One of our customers selling hi-resolution Second Life textures asked us to ensure that his Second Life bots look exactly as using SL viewer, and we've managed to resolve this problem.
Another minor issue fixed today (also affecting a lot of other bots) is a reliable eject routine. Since we were updating standard libraries, we've fixed this problem too.
Thus, if you still see a rough grainy textures on your Second Life bot, or if you lack a reliable eject routine – welcome to SmartBots!