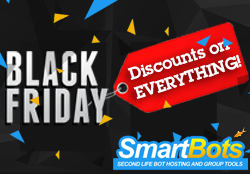 November is a month where we enjoy the festivities and show appreciation.
On this Black Friday we have some exciting discounts on our Add-On Store:
20% off any add-on using the coupon code: ITSFRIDAY2022 (Excluding Immortal Bot add-ons)
10% off for Immortal Bot add-ons using the coupon code: ITSIMMORTALFRIDAY2022
30% off for Bundles using the coupon code: ITSFRIDAY2022BUNDLE
Make sure to use it! The following coupon will be active until December 1st, 2022!
Thank you for choosing SmartBots and we wish you all the best in the upcoming holidays!