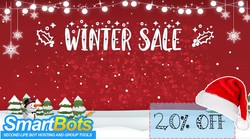 SmartBots celebrates this Christmas with a super Winter Sale. This is your chance to get any of our addons for a special price!
Check the Xmas discount coupons here.
Also take a look at our discounted bundles!
Merry Christmas!
2020 is coming to a close (phew!). Despite of this year's specialty, I hope you enjoyed what we achieved in 2020! At SmartBots we are eager about what we do: we think out new tools, we find the ways to do things nobody managed to do before (have you tried our SpeedLight viewer?).
On behalf of myself and all of the team at SmartBots I would like to thank all of our customers and users! Thank you for your support, thank you for your business. We wish you Merry Christmas and happy New year! I wish our First and Second lives to become at least bit better in 2021!
Sincerely yours,
Glaznah Gassner
the creator of various stuff you like