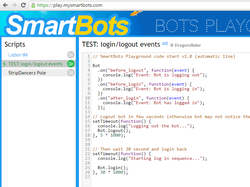 This is a repost of a recent DevPortal post. It turned out that lot of SmartBots developers missed that post, so I decided to repeat it here once more.
The Bots Playground has been updated with the following improvements:
Scripts now restart automatically
This is the most important update which relaunches your scripts if Playground server gets restarted.
Page controls got refined for 1378×768 screen resolution
This is the most popular resolution for compact laptops, so we refined page controls: script rename/remove links has been changes; long script names are properly displayed now.
Scripts list is now sorted by name
Finally, two new commands are available:
We welcome all developers to try Playgrounds and discuss it in DevPortal forum!