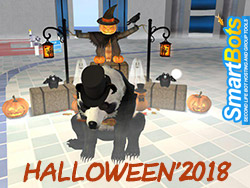 We want to remind you: Our Halloween Photo Competition is ending by 31st October, 2018
Those of you who participated in Halloween photo contest. To make sure that we see your post:
– Along with hashtag #SmartBotsSL, please tag us in your posts as well. (You can tag us directly by typing @smartbots.sl)
– OR message us on our Facebook page with links to your posts.
If you have not participated yet in our Photo contest, you still have a chance to win L$ 20,666 to your wallet balance! Click here for more. (more…)