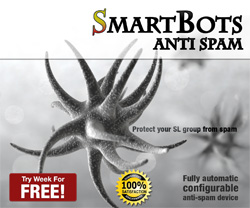 We've released a new device and new plugin script today! Both devices were created on customers' requests:
1. SmartBots Anti-Spam device
This is automatic device which monitors your Second Life group for spammers and beggars, and eject them from the group (with or without giving a warning).
Antispam device is very easy to configure (it supports words, phrases and wildcards) and lightweight (1 prim only).
It's available at SL Marketplace already – click here.
2. Group Inviter plugin for IntelliAD
This is a plugin for famous adboard rental system developed by Intelli. We've created the group inviter plugin which invites your tenants to the group (any role, closed enrollment allowed) and ejects them when they got evicted.
Plugin is configurable using the config notecard and also available at SL Marketplace.
P.S. I really appreciate the help of our customers who helped developing and testing these products! Thank you very much!