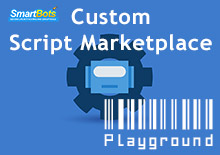 SmartBots Store got an amazing update, and now turns to a custom script marketplace!
Custom bot scripts (written for Bots Playground in JavaScript) can now be sold and purchased at SmartBots Store!
For bot owners
If you are a bot owner, check SmartBots Store for scripts. We already have a bunch of cool ready-to-use scripts:
IMs to Discord forwarder
Bot status to Discord informer
and more!
No scripting knowledge, no config notecards are required!