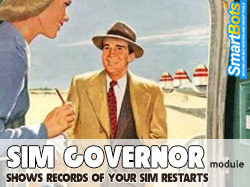 Sometimes dealing with groups, customers and lands can become a nightmare, but we got you covered!
With Sim Governor Addon your Sim's will be automated! Setup Sim Restarts, Broadcast Sim Wide Messages, and lots of features to help you increase your profits reducting the time you spent to manage your business.
Sim Governor add-on allows you to control your sim using your bot without having to login to Second Life.
The Sim Governor feature list is available here Sim Governor add-on.
Get the add-on
Use the coupon code DOMORESB04 to get 15% discount on Sim Governor add-on.
This offer is valid from October 30th until November 6th.
Feel free to contact our 24/7 Live Chat Support for any questions