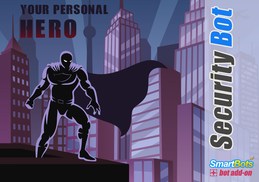 Protect your Second Life land with a new Security Bot add-on!
TL;DR
Set parcel access mode: everyone or allowed list only
Manage access lists on web
Set anti-spam protection
See security logs online
Details
Security Bot is a new add-on for SmartBots. Your bot tracks visitors of your parcel 24/7 and ejects unwanted residents (you set the allowance mode yourself).
You can see who visited your parcel; who was ejected and who was added. You can set the secret word which gives a time-limited access to the land.
There's a basic anti-spam protection added (we will extend it in the future): Security Bot ejects residents who send group unsolicited invitations (spam invites).
How to get Security Bot
Visit Bot Store add-on page and get Security Bot right now.
There's a discount coupon to make the purchase more pleasant: SMARTSECURITY – it gives 33% discount.
More technical info available in Security Bot docs.
Nobody will pass your Security Bot!