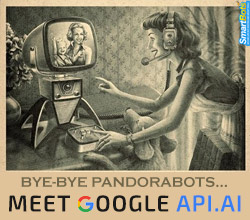 As you may know, SmartBots was using AI chatbots made by Pandorabots.
Pandorabots was a free service at the beginning, but then they switched to a paid model (quite expensive as you may see). However, for several years the old-good free Pandorabot API was working along with a paid version, and our bots were using it. Today, it seems that free features of Pandorabot have gone completely – the old address is not responding anymore.
Meet Google's API.AI
Thus, we've examined the AI chatbots market and decided to switch to Google's API.AI (https://api.ai/). This is an awesome AI chatbot service which has a single disadvantage compared to Pandorabots: the default chatbot setup is rather dumb and requires training. Well, we will.
Some of SmartBots bots already respond using API.AI, while some are still trying to reach Pandora. This will be solved within a next rolling restart.
Custom AI
As you may know, previously you were able to setup your own AI chatbot with Pandorabots. API.AI also allows using custom chatbots, so you are welcome to create account at https://api.ai/, create your own AI chatbot and train it. Once you are done, please contact us to connect your AI chatbot with SmartBots (this is not an automatic procedure yet but it will).