Welcome to the grand opening of a brand-new chapter: 2024! As we reflect on the successes and strides made, we're immensely grateful for the partnerships we've forged with visionary Second Life business owners like you.
To kickstart the year with a bang, we're introducing something truly special – our exclusive SmartBots Advent Calendar, tailor-made for Second Life entrepreneurs like yourself. Each day holds a new opportunity for you to uncover incredible deals, gain access to unique offers, and receive special gifts that will elevate your business strategies.
This isn't just an advent calendar; it's a strategic roadmap for the upcoming year. Join us as we count down the days to a prosperous new chapter, filled with cutting-edge solutions, collaborative ventures, and unparalleled savings. Get ready to unwrap success, boost your business, and create lasting impressions in Second Life with SmartBots!
SmartBots Advent Calendar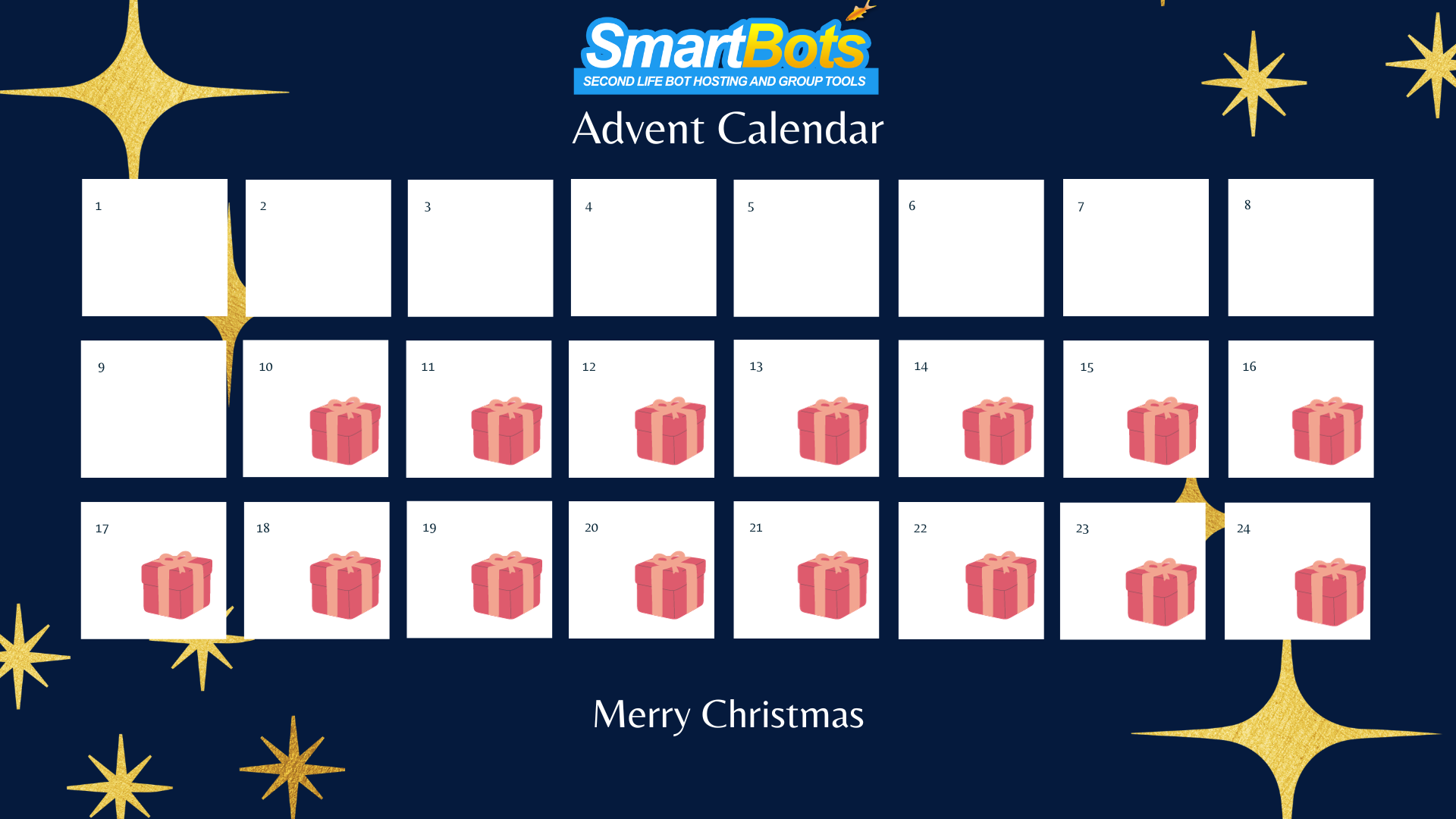 Unlock exclusive savings with discount coupon codes for a variety of items available in our Bot Store. Don't forget to revisit this blog post as the Advent Calendar unfolds its magic from December 12th to December 25th, 2023.
Dec 12th: ???
Marry Christmas and Happy New Year!
What an incredible year it has been! In 2023, we achieved significant milestones, thanks to the collaborative efforts of SmartBots team and your amazing business!
This year, we've released & introduced the very first AI in Second Life. And this is just a door-opening to a great potential, for which we're super excited – we're planning to explore & expand the possibilities of AI in Second Life as much as we can.
Additionally, we've relaunched Ads-O-Matic. We're continuing the development of SpeedLight, and we've had a lot of important internal operations of bugfixes, server-side upgrades and stability improvements. Stuff that normally we don't bother you with, but are very important!
Of course, all of this would not have been possible without your continued business, which we really value. On the conclusion of this great year of 2023, we would like to wish you all the best from everyone of us at SmartBots! We'll see you in 2024!