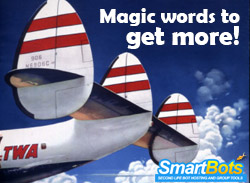 The special improvement has been make for SmartBots BotStore, and the discount coupons are now supported!
You can enter the coupon codes in BotStore to get discounts, lower prices and even make the items free! We will be regularly publishing the fresh coupon codes in SmartBots twitter account. Some coupons will be time-limited, some can be used by limited number of users.
The first coupon code is GIVEME20 – it gives 20% discount on all BotStore modules. Coupon expires in 24 hours!
We will be playing with coupons, limited-edition discounts and very special offers during the next few days. Subscribe to SmartBots twitter to catch the coupons in-time!