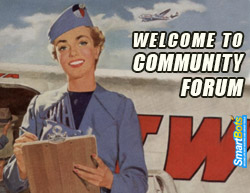 SmartBots team is releasing new features and improvements every month. For the past few months, I've had a feeling that we need to improve the connection with all SmartBots users.
Meet Community Forum!
To achieve this, we've launched an experimental SmartBots Community Forum today. Feel free to visit, join and comment! I promise to fulfill the first few requests posted on forum :) I really want to make it live and useful for all SmartBots users.
The first discussion posted relates to Security Bot. We've got very interesting and important wish list on this add-on, and I want to share it with you.