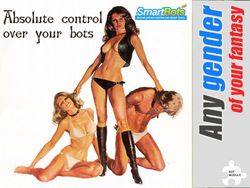 RLV module has been updated to support Model Bots.
Actually, I believe we should enable the Model Bot support from the very beginning… despite of the fact that this module loads bot's brains rather heavy. Anyway, it is time to give few lessons to Model Bots, too!
You can purchase an RLV module for your Model bot right now. To make your purchase even more pleasant use this coupon: OBEYOBEYOBEY. It provides 30% discount (this is a time-limited offer, ends in 2 weeks).
P.S. We did a lot of tests with actual RLV devices, but some of your beloved features may be still missed. Don't hesitate to contact us and request your RLV device to work! (For VERY special devices you even can contact us anonymously!)