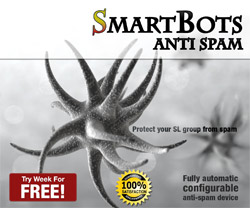 SmartBots Group Chat AntiSpam device has been updated. The new config directive has been added: "WHITE WORDS".
This directive allows some words to be told on group chat. Imagine that you want to protect your Second Life group against spammers, and forbid them to send URLs and SLURLs. You add the following directive to config notecard:
STOPWORDS = http://
This blocks spammers from sending URLs and SLURLs. But what about your own customers and support? Sometimes they need to say your business SLURL to the chat. Add the new directive
WHITE WORDS = secondlife/My%Region%Name/
and all messages containing this string will be considered safe.
You can get the new updated AntiSpam device at SL Marketplace for free.