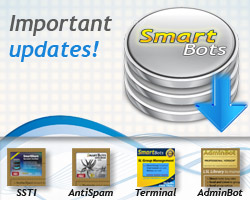 We've updated several SmartBots-powered devices today. The following devices were affected:
SmartBots Payment Terminal
updated to v2.9: the payment transaction processing has been improved
SSTI (SmartShare Tenant Inviter)
server-side updates: the invitation delivery is more reliabile now
AdminBot LSL Library
updated to v1.6:
– added new event, SB_SETUP_BOTNAME
 – AdminBot correctly saves the group chat sessions on sim restart
SmartBots AntiSpam
updated to v1.2: uses the new AdminBot and keeps the chat connection on sim restart
All these devices (and AdminBot LSL library) are available at SL Marketplace. AntiSpam, AdminBot and Terminal owners are highly recommended to update!