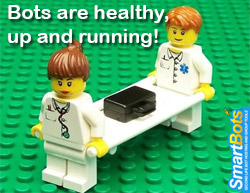 We are working on integrating bots and Second Life with Discord. Thus, the bots just got a new experimental brains upgrade which is able to be a Discord bot in addition to Second Life bot.
We've rolled out the experimental release yesterday, and, ehm, it was too experimental. Few hours later, the subject bots started crushing everything around, eating memory without washing the hands first… you know, very inadequate behavior for good bots!
The reason has been found: this is a Discord's unstoppable fun made our decent bots crazy! Our team did and applied a special Discord-resistance patch for all of the bots. So far, everything is calm since then!
No kidding: we've did a release with new experimental integrations, and it messed some things up. Few updated bots managed to overload and crush two of our servers, causing the account and system lags. The problem is fixed now.
If you are using Discord for your Second Life activity, please contact us (either by replying to this blog post, or by contacting our support). We will be glad to know the ways you use Discord!