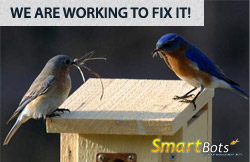 Dear customers,
One of our servers experienced issues a few hours ago and some affected bots went offline. All information and settings are backed up, but launching a new replacement server is taking more time than expected.
Our technical crew is online and trying to fix the issue as soon as possible.
The outage period will be compensated by adding a complete week to your bot's subscription. The problem caught us in the middle of setting up a new server, so we'll also present you with a special Christmas offer as soon as we solve the issue.
The complete report will be posted in the blog as well. We appreciate your understanding, thank you for staying with SmartBots!