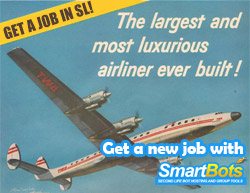 As an on-growing and one of the biggest companies in Second Life, SmartBots is always looking for new crew members to work in a cool, positive and friendly environment – with great opportunities, Fair-pay (one of the highest in Second Life), raises, promotions and of course, the most delightful experience!
Currently, we have various vacancies available that you may check out on our Careers web-page for more information.
We do hope to hear from you very soon!