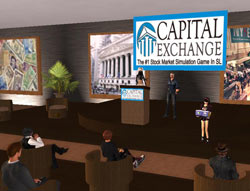 We had the first SmartBots shareholders meeting today at SLCAPEX office. SmartBots creation history has been revealed, new product has been presented. The future plans and goals has been revealed as well.
The full meeting report is available in BOTS forum at SLCAPEX. Feel free to comment or ask questions!
Remember you can buy SL BOTS shares at SLCAPEX at any time. We have a nice video explaining how to create account and buy shares. This page also describes the benefits for customers buying BOTS shares.
Thank you for your business!
Glaznah Gassner