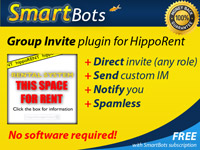 SmartBots plugin for HippoRent is now available!
The easy to config (specify the Second Life group name and drop to HippoRent box) plugin provides the following functionality:
Sends direct group invitation to payer.
Able to send custom IM to payer.
Able to send notification IM to you after each payment.
Spamless: does not invites existing group members.
The plugin is available for FREE at SL Marketplace: