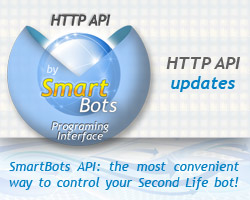 We've added the new command to Bot HTTP API: sit.
This command instructs bot to sit on a specific prim or stand up.
Additional parameter allows saving the object as a permanent sitting location of the bot: bot will sit on it again after logging in (after a sim restart, network reconnection or manual logoff/login sequence).
More information and examples are available in HTTP API documentation.
P.S. This command has been added by a request of a SmartBots' customer. Thank you for using our APIs!