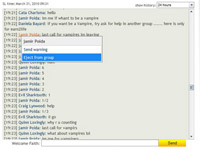 As you may already know, SmartBots allow you to participate in and control your group chat using web browser:
read and send group messages,
send warnings to group members,
eject spammers and abusers.
Now you can assign the chat moderators to monitor your Second Life group chat. Chat moderators are able to login to SmartBots account, look after the SL group chat and eject spammers. Read more here!