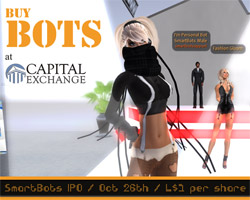 We are starting the Initial Public Offering (IPO) of stock for SmartBots at SLCAPEX marketplace.
The IPO starts Wednesday, Oct 26, 4:00 AM SLT.
Why we are doing this IPO
SmartBots services are up and running for almost two years (since January 2009). This is successful and developing SL company: the monthly revenue is L$360,000 with thousands of customers. We release the new tools and devices to manage Second Life groups and Second Life bots.
The main goal of this IPO is to establish closer relationships with our customers, and help them to become our partners. Public marketplace listing at SLCAPEX is the most effective and reliable way to invest to Second Life company you trust.
What is Initial Public Offering (IPO)
In few words, you purchase the part of SmartBots company and benefit when company is developing and its value grows. We offer 25% of the company stock, selling 1,000,000 of publicly available shares.
You can buy as much shares as you want – the initial price of the single share is L$1. After initial stock is sold, traders start buying and selling shares at marketplace. The share price varies according to the company's popularity and profit.
We are proud to say that we are providing the solid product in demand!
How to buy BOTS shares
We will post another blog entry explaining the process of purchasing stocks after IPO starts. You can create SLCAPEX account for free and read marketplace instructions yourself: visit http://www.slcapex.com
Are there benefits for shareholders?
Definitely yes. We will provide the discounts and packages, including life-time ones. This information will be published a bit later. If you are interested in purchasing a large stock, please contact Glaznah Gassner in-world or by email.