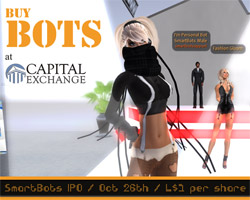 We are starting the Initial Public Offering (IPO) of stock for SmartBots at SLCAPEX marketplace.
The IPO starts Wednesday, Oct 26, 4:00 AM SLT.
Why we are doing this IPO
SmartBots services are up and running for almost two years (since January 2009). This is successful and developing SL company: the monthly revenue is L$360,000 with thousands of customers. We release the new tools and devices to manage Second Life groups and Second Life bots.
The main goal of this IPO is to establish closer relationships with our customers, and help them to become our partners. Public marketplace listing at SLCAPEX is the most effective and reliable way to invest to Second Life company you trust. (more…)