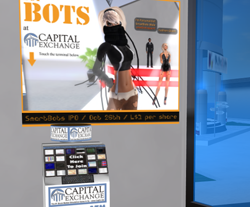 SmartBots IPO (Initial Public Offering of company's shares) has been launched at SLCAPEX marketplace 3 hours ago. 50% of shares are sold already!
As CEO of SmartBots, I would like SmartBots customers to become shareholders (the share price is just L$1 during IPO). This will help us to establish the tight collaboration, and you will benefit from SmartBots development.
How to create account with SLCAPEX (video)
Teleport to SmartBots office and create your SLCAPEX account: just pay L$1 to the SLCAPEX terminal (it will be added to your SLCAPEX balance).
We've made a video explaining how to do register: (more…)