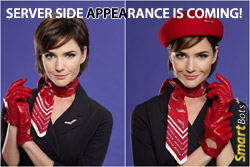 Linden Lab has informed third-party viewer developers that a new avatar appearance engine, Server Side Appearance will be published grid-wide in July.
This means that multiple alpha layers and other appearance issues will be automatically resolved: SL servers will take care of avatar appearance and textures, and your bot's look and feel won't change when you switch control from a viewer to bot software.
We've tested SmartBots and our bots with LL representative recently to ensure that switching to Server Side Appearance won't mess your bot skin and outfits. All tests have been passed smoothly, including meshes+multiple alpha layers.