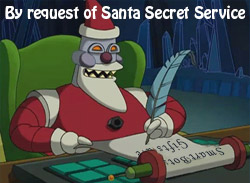 Dear friends! Christmas is coming. Next year will be the 5th anniversary of SmartBots, so we have temporarily uncovered our very special Immortal module for Standard bots.
This module makes your Standard Bot's subscription ever-lasting and immortal. You'll never have to pay for it (and for the groups associated with that bot), indeed!
Emergency update:
It turns out that all Christmas offers are being monitored by Santa's Security Service. We've received an official note from Santa Claus that we will have to provide the real gift, otherwise our marketeer will be eliminated by elves.
Thus, meet the special gift from Santa!
50% discount on the Immortal Standard Bot, using the coupon IMMORTALSINCE2016
(click "Buy" button and then enter the coupon code).
Coupon conditions:
The total number of coupons is limited to 50,
Each coupon owner can use it up to 3 times,
Coupon is active until January 1st, 2016 (you have until this date to use it),
Use the coupon here!