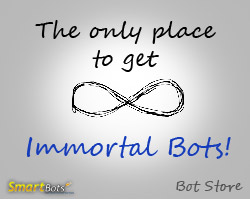 Dear customers! We are glad to inform you that we've opened the SmartBots Bot Store: the place to buy bots-related stuff: add-on modules, devices, advertising tools and other useful things.
The Bot Store
Bot Store is a new special marketplace at SmartBots. It is intended to sell various tools and devices which work with SmartBots.
It is not a replacement for SL Marketplace or in-world stores. It's just a handy place for SmartBots customers to locate a useful device, tool or script which works with bots, groups or helps advertising.
Enter Bot Store by clicking on "Bot Store" menu in your SmartBots account.
Third-party Content
At the very beginning we will be selling our devices and modules in Bot Store. However, Bot Store supports third-party sellers: all developer will be able to sell their creations here: directly to the customers.
Immortal Model Bots
The very first bot module you can purchase in Bot Store is "Immortal Bot Module". This is a special Christmas offer: the module makes your Model Bots never-expiring!
Yes, this means that you don't need to pay subscription anymore after you assign Immortal Bot module to your Model bot.
Read more here about Immortal Bots here.