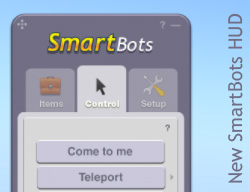 We've developed and released the new HUD to control your SmartBots personal Second Life bot.
It completely replaces the previous HUD and able to perform the same functions. What's new:
completely new look and feel
 easy interface with tabs
draggable – drag it on the screen with your mouse
foldable: you can fold the HUD if you just need to monitor the bot's status
More features coming soon:
ability to talk via bot, and HUD notifications about new IM
support for SBSL (SB bot programming language).
To get new HUD, login to your SmartBots account and click "Your personal bot" => "Bot control tools".
Another way to get HUD is to teleport to SmartBots in-world office, touch the "Devices container" and choose "Bot HUD".