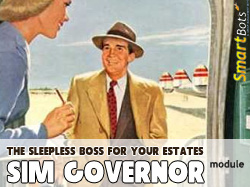 We are starting the tests of a new SmartBots module, "Sim Governor". This module allows remotely controlling your sim (or multiple sims) from a web page or from your scripts using SmartBots HTTP API.
All you need is your own bot added to the sim managers list. Bot processes your commands and manages the sim access lists and settings.
Features
With a "Sim Governor" module you get the following functions available (either via a web interface or using HTTP API):
Send sim-wide messages
Restart your region remotely and cancel restarts
Manage access and ban lists
Automatically ban group chat spammers on all your estates
Add/remove region managers
Set various debug options on-the-fly
Perform the sim-wide object return (added by your requests)
All operations are being managed by your personal bot. Unlimited number of regions is supported (bot teleports to the region to perform the necessary operations).
Looking forward for your feedback
If you have any specific requests, please reply to this post or drop a message to Glaznah Gassner in-world. We would be glad to extend the functionality of the module on your request.
We also appreciate if you help us testing the access/ban lists if you have an empty sim available.