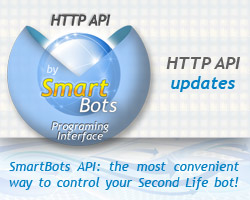 We are starting to publish the sim/region-related set of HTTP API functions. These functions allow restarting regions, returning objects, ejecting/banning residents.
The first function which is available already is simrestart. The function allows initiating the region restart (and canceling the procedure, too).
P.S. These API functions does not require a Sim Governor addon-module.
P.P.S. We've added a shorthand LSL function to call SmartBots API. While API is easily accessible in a raw way, using a function may be extremely handy.