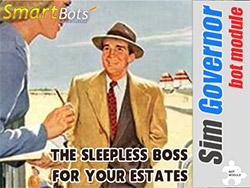 We've released the "Sim Governor" module: the addon for your SmartBots bot to manage your sim!
The core functions of the module are:
Manage the sim access list (ban residents, add them to access list)
Eject residents without banning them
Send sim-wide messages
Restart the sim
Plus an unique feature beyond the SL viewer functionality:
Check the sim ban list for dead accounts.
How to get the module
You can get the module in our BotStore, here's the direct link. The module works as usual: purchase it, attach to the bot and use.
To know more about Sim Governor functionality visit Sim Governor documentation page.
Future updates
We were receiving the feature requests from you since the first Sim Governor announcement. It turned out that sim management is a complex problem, with a lot of handy tools required.
But it was hard for some of you to tell which features you want to get, without trying the module first. Thus, we've decided to release the bare module, and then improve it according to your requests.
The following features are planned to get added:
Integrating with SmartBots antispam, blacklist and group chat management,
Ejecting sim-banned residents from a group automatically,
Delayed and scheduled sim restars,
And more!
Feel free to post a reply to this blog entry, contact Glaznah Gassner in-world, submit support tickets to send us your wishes. We are really eager to make Sim Governor an essential and comprehensive tool for you!
P.S. Of course, all future updates of the module will be free for its owners.
Now, please take a look at the Sim Governor's page, view screenshots and send us your thoughts!