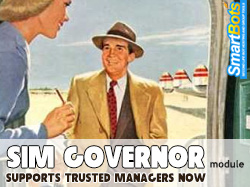 Sim Governor module now can be controlled by Trusted Managers.
This means that you can provide region control rights to your bot, and then let your employees kick greefers, eject and ban abusers from the whole sim (or all your estates).
With a Sim Governor module, your managers do not get access to the dangerous settings like "Agent Limit" or "Object bonus", or a terrain level editor.
You can get the Sim Governor module in our Store. Use the coupon code IAMGOVERNOR to get a 30% discount!