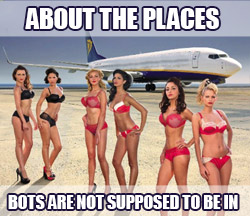 As you may know, bots are not welcome in Linden Welcome Areas – they are allowed to appear here but can't stay and annoy people, especially newcomers.
In SmartBots we obey the rules and try to keep bots away from Welcome Areas. However this may happen if your region is being restarted: your bots will be put to the nearest Infohub automatically.
Previously bots were automatically logging out if they stay in Infohub for a long time (15+ minutes), notifying the owner using IM. Today we've slightly changed this behaviour: bots residing in Welcome Regions will logout, but try to login again in 30 minutes. If your region still offline, bot will go offline again and try logging in next 30 minutes.
Thus, now you won't end with a logged out bot, even after a rolling region restart.