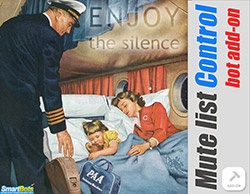 MuteList add-on is a user-friendly web interface to view and manage block lists of a Personal Bot.
The add-on supports viewer-side blocks as well: if you block someone from your bot's Viewer, the interface will update accordingly.
Overview
Various Second Life message sources can be muted:
Avatars by SL Name or UUID
Object by name
Object by UUID
Pricing
The add-on is absolutely free, you can get it at SmartBots Store right away.
We've got used to publish discount coupons along with a new add-on… Well, since Mute List Control is free, here's the 10% discount coupon on all Store add-ons: MUTINGISFUN (coupon is valid through Apr 9th).
Questions?
You can read more information about MuteList at the add-on documentation page
If you have any questions, feel free to contact our Live Support Chat