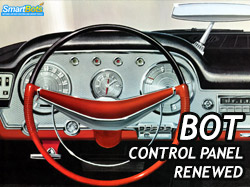 The Bot Control Panel is a central part of your bot's management. It helps to manage many aspects of your personal bot, including –
Messaging.
Accepting inventory and invitations.
Viewing your bank balance.
Managing your add-ons.
Set your bot's location.
Plus many more.

Bot Control Panel new look
Our development team has made important updates that will enhance the use of this feature.
Along with a sleek new look, the new user friendly interface now offers
 The ability to link your Control Panel with your bot's local chat and IMs.
 A new way to review and manage your add-ons.
 Ability to refresh the bot's status without reloading the page.
If you have any questions or need any assistance please contact our Support Team at SmartBots.