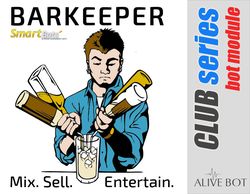 We have released a break-through update to the popular Alive Barkeeper Bot add-on.
Alive Barkeeper turns your Personal Bot into an interactive barkeeper to use at your club, shop or home. You can now set your own drinks menu, give drinks for free and see the usage history!
Check the video demonstrating how does Barkeeper work:
How it works
Visitor clicks barkeeper & receives the drink menu
Visitor selects a drink & pays the Barkeeper.
Barkeeper prepares the chosen drink and passes it to the visitor.
What's New
Totally new set of drinks supplied with the bot.
Create your own set of drinks and menus.
Provide free barkeeper drinks (with no payment asked by the bot).
The barkeeper use and purchases history.
The summary page of all your Barkeeper Bots.
Creating your own set of drinks and menus allows you to add whatever you would like the bot to serve your customer, allowing great flexibility and creativity!
The new interface means you can access and make changes easily, choose how to greet your customer, how much they will pay and what your bot will say during the exchange, making this a fun interactive experience.
Get your Barkeeper with a discount!
To purchase the Alive Barkeeper Bot add-on visit our Store.
The price of a new Barkeeper is L$1990, but you can get it with 50% discount for a limited time!
Use coupon IHAVEABAR to get a 50% discount. Click here to apply!
For help please contact our 24/7 Support Team