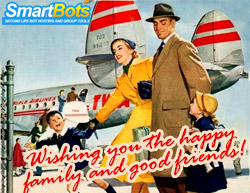 For more than two centuries, Thanksgiving Day has been celebrated in the United States. This day is a time for family and friends to come together to celebrate and express their gratitude for all the good.
Today we wish to join this sensational celebration. Show our gratitude and love for our customers. We thank you for all the continued support, creativity and feedback – with your comments, messages and criticism we are getting better – this long journey of years would not been possible without you!
And last, but not least – a small "Thank you!" present from us
The coupon THGVG2017DOUBLE will double your bot subscription payments of new and expired bots during the next week! The coupon can be applied unlimited number of times, but only to bots which we inactive on Nov 24th (e.g. inexistent or expired).
Example 1: activating a new bot for a week gives you another week free;
example 2: re-activating the expired bot also gives you a doubled bonus;
example 3: then, adding another month to this re-activated bot also gives free month.
May your holiday be full of love, laughter and peace of mind as we give you more freedom to enjoy your two lives, real and second!
… Yet there's so much to be done and to come, thank you for staying with us!
Sincerely,
SmartBots Team