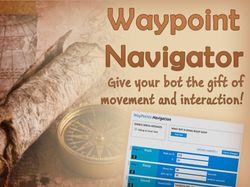 Meet the new Waypoints Navigator plugin module!
This module allows you to "program" your bot in easy manner: walk, then say something, then play sound… whatever you want to make your bots seem alive.
There are multiple waypoint types available: walk to, say over local chat, wait, play animation from inventory and even teleport to another region. The module can be attached to any type of the bot, so if you have some traffic bots… go ahead and make them cool and useful.
Get the module
The module is already available in SmartBots Store: go ahead to grab and try it! We will be grateful to hear your comments and wishes on new commands to be added.
The demo "waypointed" bot can be seen in the SmartBots office. It walks around the office and demonstrates the items we have there.
Something special for you
P.S. Oh, and if you are a blog subscriber… there's a special secret for you. The discount code WAYPOINTS_NOW will give you a 20% discount. The offer is only valid for a short period of time!