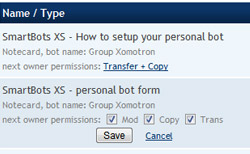 SmartBots bots are able to give out inventory: as notice attachments and while inviting visitors to the Second Life group.
Now you can set the "next owner's" permissions by using  SmartBots web account, and set the end-user permissions for the inventory items to deliver (copy only, copy+trans or whatever you need).
See the SmartBots documentation page for details.