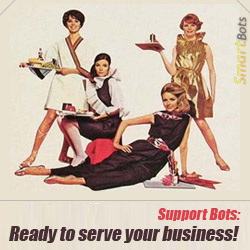 We are releasing a support solution for Second Life business owners, based on Alive SmartBots: Alive Support Bot.
Support Bot stands (or sits) in your office and automatically accepts Instant Messages from your customers and visitors. These messages are being forwarded to your human support managers (and probably to yourself). Each manager can grab the message and contact customer (so two managers never contact the same customer).
Bot's owner is able to see all incoming messages, assigned managers, monitor their activity and response time.
Demo is available
We've prepared a demo movie to show how the SmartBots Support Bot works: click here!
Support Bots are available in Bot Store already. We have a special offer running till March 1st, with Support Bot module available at a special price!