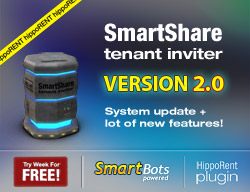 The new version of SmartShare Tenant Inviter (SSTI) has been released – v2.00!
This version is a major update of the whole system (server + plugins + website), everyone is recommended to update. The improvements include:
Box expiration reminders.
Your bot will send IMs to tenants who are expiring or already expired!
Various stability and performance improvements.
New Hippo plugin works better, faster and more reliable.
Box tenant change is now supported.
You can easily replace (edit) the Hippo box tenant now using a native Hippo box menu.
Website interface refined.
We've made the web interface more informative (especially the history and search pages).
Automatic box scripts update.
Updating 500+ Hippo boxes to a new SSTI version is usually a problem… not with v2.00+!
Expiration reminders
SSTI sends the IM notifications to your tenants now! The message is being sent directly by your bot (not box object) and can be configured using SSTI config notecard. You can set as much notifications as you need: "expiring in X days", "just expired" or even "expired several days ago".
Read details in SmartBots documentation.
Box tenant changes
Hippo box allows editing the tenant's name using in-world menu. SSTI tracks these edits now, and does the necessary group ejects and invites.
Moreover, SSTI logs shows you the replacement details in SSTI web interface:

Refined web interface
SSTI web interface displays more information now: the SLT time of the invitation, tenant replacement details at the search page, more convenient tenant guests/partners structure in logs.
The auto-update system
This is the last, but one of the most useful improvements. If you own a lot of Hippo boxes, updating them is a real headache (drag-and-dropping a new SSTI plugin script is simple… when you have less than 50 boxes!)
SSTI version 2.00 supports the autoupdate function: SSTI server can update all your boxes in region with two clicks! You still need to update your boxes manually from version 1.x to 2.0 (this is easy to do), but this is a last time you do such update manually!
Welcome to SmartBots SSTI!
More than one hundred of SL business owners use SSTI (with thousands of boxes rezzed). Try SSTI yourself!