We are glad to be by your side for more than 10 years!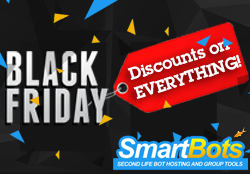 SmartBots is the largest bot hosting provider in Second Life today, working to deliver you the best services with unbeatable prices and quality.
We have a special discount ready for you on this Black Friday and Cyber Monday.
Black Friday Special
We gladly offer you the Black Friday discount of 5% off all add-ons in SmartBots Bots Store (including Immortal Bots). The discount is valid from Nov 26th to Nov 30th using the coupon SMARTFRIDAY-330
Manage your business with SmartBots, subscribe to our blog and stay tuned!