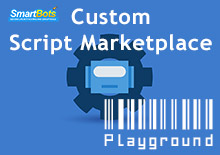 SmartBots Store got an amazing update, and now turns to a custom script marketplace!
Custom bot scripts (written for Bots Playground in JavaScript) can now be sold and purchased at SmartBots Store!
For bot owners
If you are a bot owner, check SmartBots Store for scripts. We already have a bunch of cool ready-to-use scripts:
IMs to Discord forwarder
Bot status to Discord informer
and more!
No scripting knowledge, no config notecards are required!
Configuring scripts is easy:

Check available Playground scripts now! (And remember that any Store purchase can be refunded within 3 days, no questions asked).
For developers
If you are a developer, check the Playground features and start selling your own scripts!

You set the price of the scrip, you get the full amount from every sale (no commission applied). Read more about selling your Playground scripts.
Discussing Store and Playground
Feel free to join a Playground discussion in SmartBots Discord!