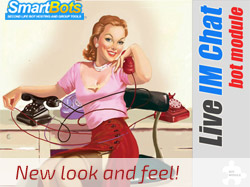 Live IM Chat Application (add-on) is a web interface which allows you to receive and send Instant Messages using your personal bot. Your messages will arrive to recipients like regular IM messages as if they are speaking to another avatar.
We have worked hard to bring you the improvements listed below:
More user-friendly design
Offering friendship & teleport
Typing multi-line texts
A dashboard page that shows statistical data & unread messages
Downloading IM chat logs
Screenshots
Get the updated app
You already own it: open Live IM Chat page and accept switching.
You don't own the add-on app: visit our SmartBot Store page.
If you have any questions, feel free to contact our Live Support Chat!