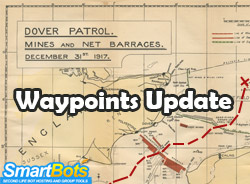 Waypoints Navigator Application (add-on)
is one of our
most popular
add-ons. It's packed full of
features
, making this add-on a must-have for your bot. Now we have rewritten the add-on from scratch to
enhance
it even more.
 Whats new in WayPoints Navigator
The ability to import and export your WayPoints.
Slight changes to the interface, whilst keeping it familiar.
Multi language support*
Visit our SmartBots add-ons page to start using Waypoints Navigator Application (add-on) with your bot.
If you have any questions, our 24/7 Live Chat Support team is always ready to help, feel free to contact us!
This update was a result of a welcomed request from one of our valued customers, as seen here
* If you feel you can help translating Waypoints (for a reward) please contact us.